FEZ D
FEZ is the name of a city in Morocco, where once a headgear in form of a truncated cone was created. FEZ is also the name of a BALTENSWEILER floor and pendant luminaire. The simplicity of form and the high demands on function are the most important aspects of the FEZ and with its high light efficiency, it is suitable for home, office and commercial space. The luminaire head made out of aluminium is characteristic for FEZ, which simultaneously serves as a heat sink and glare shield. Two powerful LEDs ensure high light efficiency; one of them is installed in the luminaire head. The light beam of this LED is directed by a lens from the conical luminaire head. The second LED, placed on the luminaire head, disperses the light into the room and can be switched on as required.
More

The pendant luminaire FEZ D seems to fly on barely-visible wires. Glare-free light is emitted by the luminaire head and illuminates tables or counters. FEZ D is equipped with two LED, one downwards and one upwards. The indirect light can be switched on by the switch situated on the luminaire head. A slight pulling at the spot of the luminaire operates the dimmer in the mounting plate. FEZ D can be adjusted to the ceiling height. The light beam is brillant, glare free and offers a lovely shadow-play.

Spezifikationen FEZ D: - Abhänghöhe fix, wird bei Montage eingestellt - Indirektlicht per Kippschalter am Leuchtenkopf zuschaltbar - Ein / Aus über Wandtaster bauseits - Schaltbar und dimmbar über Zug am Leuchtenkopf - Auf Wunsch CASAMBI ready oder CASAMBI programmiert bestellbar (per CASAMBI App oder CASAMBI fähigem Bedienelement steuerbar)
General information

Mounting plate
black, control gear integrated
Control system
dimmable with memory
Height adjustable from 400-1750 mm. Can also be ordered as a CASAMBI-capable luminaire on request.
Technical data

Light source

2 COB-LEDs

Light color

2700 K | 3000-1800 K

CRI / RA

90

Luminous flux

3090 lm | 2640 lm

Rated power

37 W

Input voltage

220-240 V~

Clock frequency

50-60 Hz
Models

FEZ D
Material
2700 K
3000-1800 K (DTW)
Alu
Luminaire head
Cover

anodised alu
anodised alu

7030 000 A
7030 100 A
Bronze
Luminaire head
Cover

anodised bronze
anodised bronze

7030 000 B
7030 100 B
Black
Luminaire head
Cover

black
black

7030 000 S
7030 100 S
White
Luminaire head
Cover

white
white

7030 000 W
7030 100 W
Highlights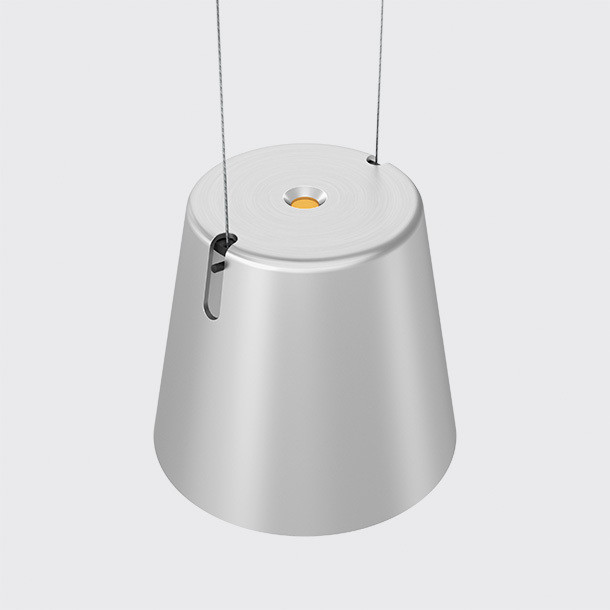 Switch indirect light