FEZ DZ
FEZ is the name of a city in Morocco, where once a headgear in form of a truncated cone was created. FEZ is also the name of a BALTENSWEILER floor and pendant luminaire. The simplicity of form and the high demands on function are the most important aspects of the FEZ and with its high light efficiency, it is suitable for home, office and commercial space. The luminaire head made out of aluminium is characteristic for FEZ, which simultaneously serves as a heat sink and glare shield. Two powerful LEDs ensure high light efficiency; one of them is installed in the luminaire head. The light beam of this LED is directed by a lens from the conical luminaire head. The second LED, placed on the luminaire head, disperses the light into the room and can be switched on as required.
More

The FEZ DZ pendant luminaire is suspended on two fine ropes. In addition to the standard FEZ D pendant luminaire, the FEZ DZ family of luminaires opens up new vertical possibilities. The luminaire head is infinitely height-adjustable over a range of 135cm. A glare-free light emerges from the luminaire head and illuminates the table or counter. FEZ DZ is fully integrated into the FEZ family with its light quality and is also equipped with two LEDs, one directed downwards and one upwards. The indirect light can be operated separately using the switch on the luminaire head. The luminaire can be switched and dimmed using the CASAMBI app or CASAMBI- capable control element (control element not included in the delivery of luminaire). CASAMBI is a modern wireless lighting control solution (Bluetooth).

Spezifikationen FEZ DZ: - Leuchte über Seilzug stufenlos höhenverstellbar - Indirektlicht per Knopfdruck oben am Leuchtenkopf zuschaltbar ((nicht über CASAMBI schaltbar) - Ein / Aus über Wandtaster bauseits - Schaltbar und dimmbar (stufenlos) über Bedienelement oder App - Standardausführung CASAMBI ready -> auf Wunsch CASAMBI programmiert erhältlich - Per CASAMBI App oder CASAMBI fähigem Bedienelement steuerbar

CASAMBI® ready: Leuchte ist werkseitig ohne Netzwerk- oder Gruppenzuweisung vorkonfiguriert und muss kundenseitig in ein CASAMBI-Netzwerk integriert werden. Leuchte kann per CASAMBI App oder CASAMBI fähigem Bedienelement geschaltet und gedimmt werden. CASAMBI® programmiert: CASAMBI-Netzwerk ist erstellt und Leuchte kommissioniert. Leuchte kann per CASAMBI App oder CASAMBI fähigem Bedienelement geschaltet und gedimmt werden.
General information

Mounting plate
black, control gear integrated
Control system
via CASAMBI, dimmable (excl. control element)
Height adjustable from 400-1750 mm.
Technical data

Light source

2 COB-LEDs

Light color

2700 K | 3000-1800 K

CRI / RA

90

Luminous flux

3090 lm | 2640 lm

Rated power

37 W

Input voltage

220-240 V~

Clock frequency

50-60 Hz
Models

FEZ DZ
Material
2700 K
3000-1800 K (DTW)
Alu
Luminaire head
Cover

anodised alu
anodised alu

7031 020 A
7031 120 A
Bronze
Luminaire head
Cover

anodised bronze
anodised bronze

7031 020 B
7031 120 B
Black
Luminaire head
Cover

black
black

7031 020 S
7031 120 S
White
Luminaire head
Cover

white
white

7031 020 W
7031 120 W
Highlights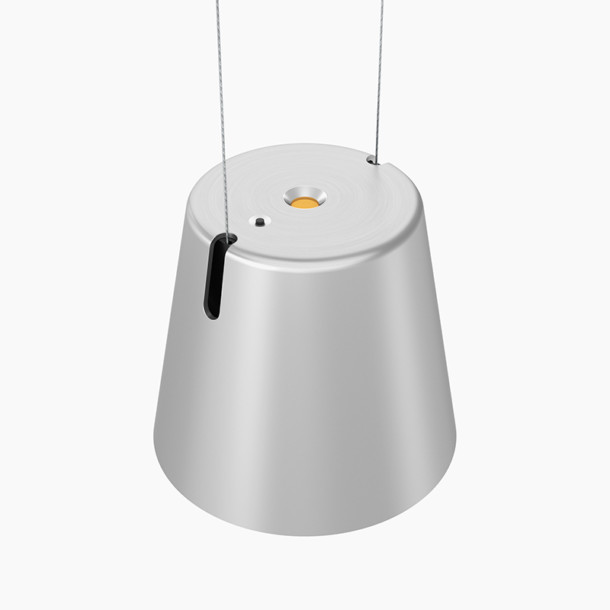 Switch indirect light